Step Inside Nuala Campbell's Vibrant Interior Design Project with Swift Direct Blinds
From business mogul to hair and makeup artist, Nuala Campbell has painted famous faces at the world's leading fashion weeks, from London, Paris to Tokyo, and now she's fully immersed in the world of Interior Design. Is there anything she can't do?
Nuala, who is based in Belfast, discovered she had a knack for Interior Design when she started flipping houses and turning them into stylish Air BnBs during Covid. Her work received regional and national coverage, and she has been booked up with clients ever since.
Nuala teamed up with Swift Direct Blinds in her latest project, transforming her client's home and windows to reflect their bold personal style and love of colour and contrast. So, buckle up for interior tips with the designer of this fabulously colourful and curated maximalist space.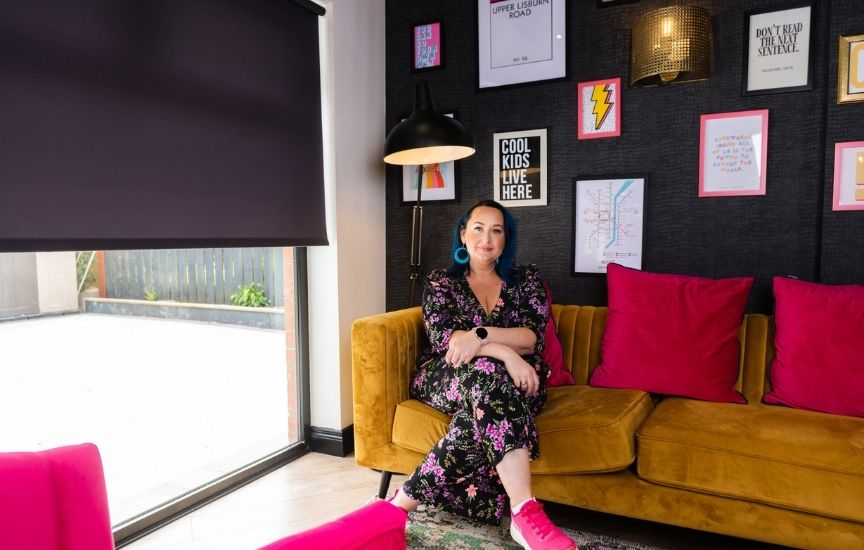 What was the inspiration for this interior project?
The inspiration for this project is very much maximalism, but it also mixes new and old together beautifully. You've got the modern kitchen and smart electric blinds but mid-century furniture with vintage upcycled furniture. This fabulous combination creates a gorgeous contemporary space.
The client's brief was that they love bright and bold colours, they didn't talk much about print, but for true maximalist style, you must get a balance of colour and pattern.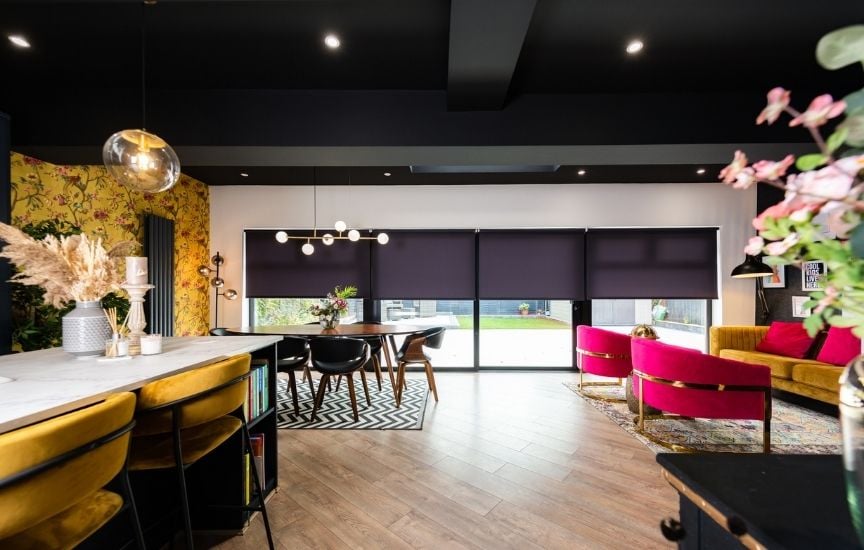 What are your main tips on creating a maximalist interior scheme?
Be fearless! You may read many blogs that say you cannot mix your prints, patterns and textures, it would be too much, and it won't match, but that's not necessarily true. If you look around this maximalist project, there are a lot of matt surfaces vs glossy surfaces, which can add dimension.
No matter what you're doing, try to have common colours throughout the space. In this room especially, there are a lot of yellows, whether in burnt yellow on the wallpaper, gold leaf on the wall, or ochre yellow on the sofa. Whichever direction you're looking in, they all tie together.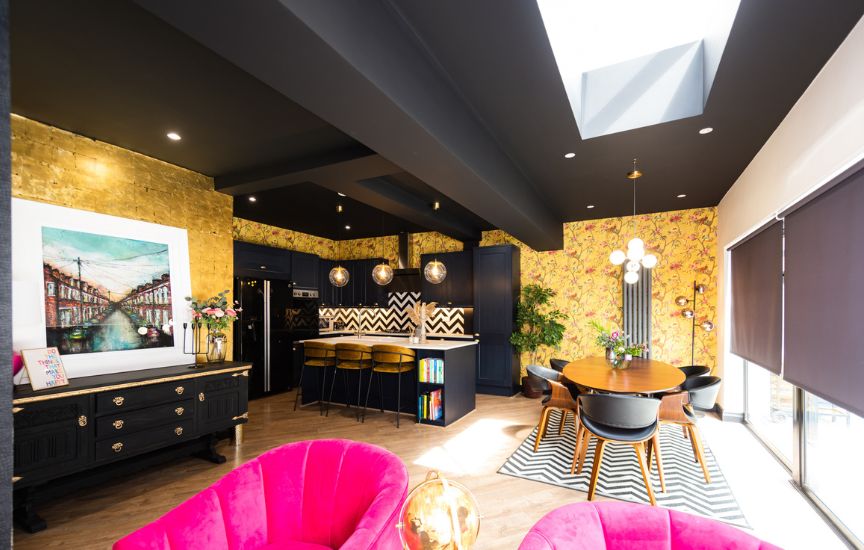 What is your go-to styling tip?
Decipher how you want to feel in the space. I pay less attention to what clients tell me about colours because they don't always match how they want to feel. When researching ideas, rather than searching for terms like black kitchens, you could say cosy kitchens, luxurious kitchens or calming kitchens. This will help you choose colours, prints and textures based on the ambience you wish to create.
For this project, the client wanted a fun, cool vibe for entertaining friends and family and where their kids could chill out after school and do homework.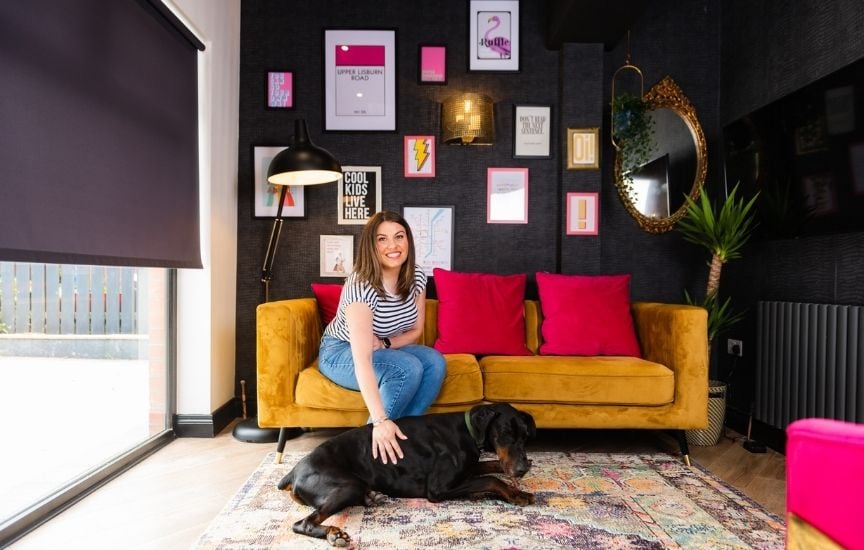 What's your advice for anyone starting a new project?
Create a mood board! If you're anything like me and you like so many different styles, this will help you narrow down your selection and choose the perfect colour scheme and textures that work together. Deciding what to finally go for can get overwhelming if you don't have it all laid out in front of you.
Use Pinterest and Google images for inspiration on the look and feel you want to achieve. Another great thing is to order samples of paint, flooring, blinds, and curtains, as the fabrics and colours can appear different in real life to what it looks like onscreen.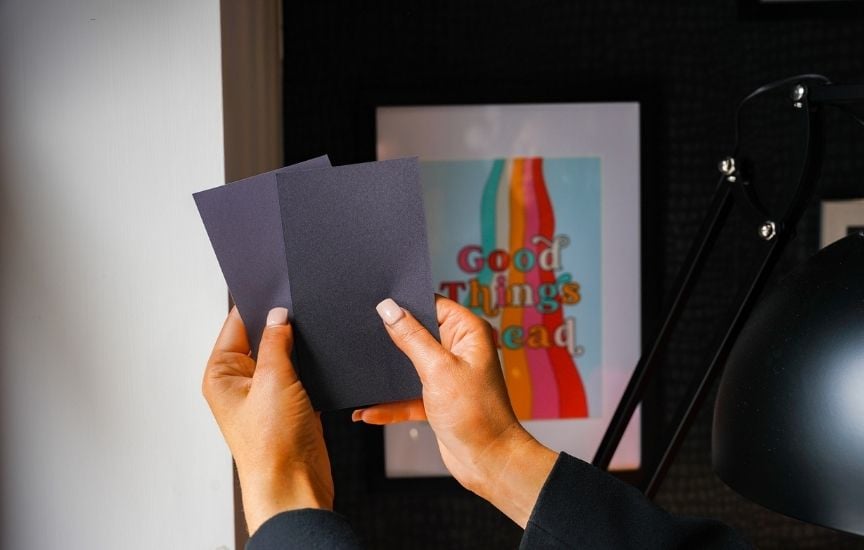 Why did you choose Black Electric Roller Blinds for this project?
Black blinds against white walls is perfect because it creates that bold balance between light and dark. I love monochrome in any design; whether it's scandi or maximalist but for a project like this with the black ceiling, it was a no-brainer.
I opted for a light-filtering fabric as this is a living space where the client wanted plenty of natural light. The large window also has doors in the centre, which open right up. They're a permanent picture frame that changes constantly throughout the day and the seasons. So, I wanted to keep the view and the flow in and out of the lovely garden. The electric roller blinds are fantastic because they open all the way up, exposing the whole window.
This family has pets and children, so the fact that these blinds operate at the click of a button and are completely safe with no cords is even better. I also love that you can hook electric blinds up to Alexa, this is a young family that is into their technology, so it's brilliant that the parents and children can open and close the blinds just by chatting to Alexa.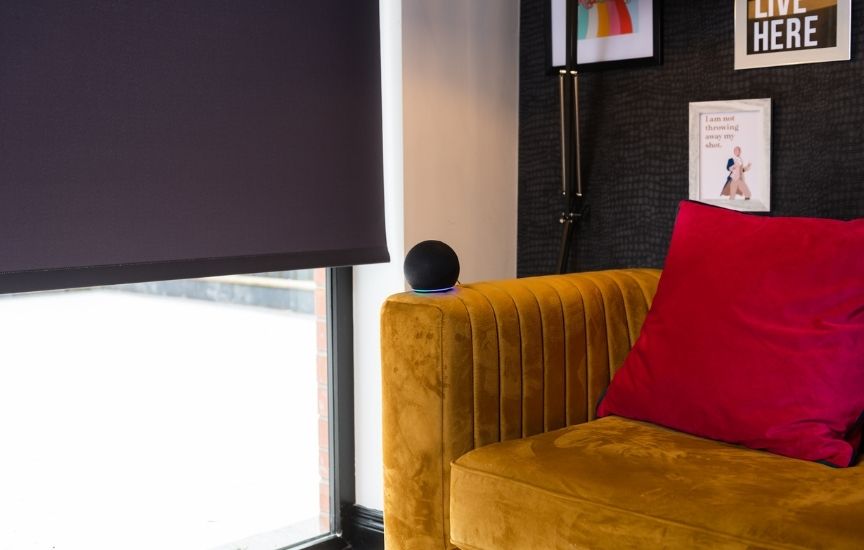 What do you consider when choosing a window dressing?
I assess the amount of light coming in and whether I want to enhance or restrict it. For instance, for a luxurious bedroom I recommend blackout roman blinds and curtains, as they'll block out the light while creating that warm, luxurious feel. On the other hand, for a minimal open living space with beautiful large windows and a scenic view, voile roller blinds would be ideal for diffusing light softly, maximising that light and airy atmosphere.
Another important consideration is privacy. If the house faces a busy pathway and privacy is desired, stylish wood venetian blinds would be ideal for enhanced privacy and light control. The outside environment plays a key role in determining the ideal window dressing for a space.
Regarding style and colour, my choice would depend on the overall ambience of the space and existing decor. If the room already features bold prints on walls and floors, I would opt for plain window dressings to balance the visual impact. Conversely, if the surroundings have plainer colours, I might go for window dressings with bold prints. In this project, plain window dressings complement the bold wallpaper and statement windows; curtains would have overshadowed their significance.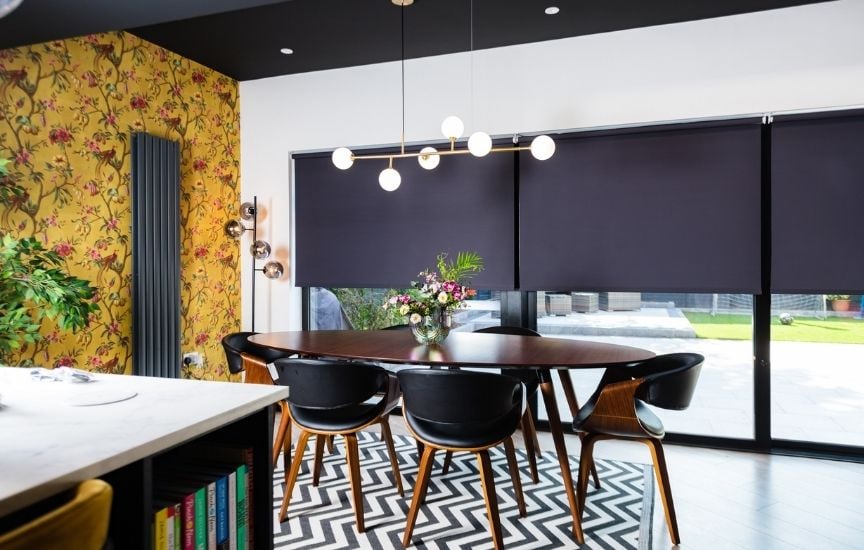 Should you layer blinds and curtains?
When choosing between blinds and curtains or whether to layer both, carefully consider the environment and the vibe you want to create.
Will this be a cool, sleek space or a luxurious cosy warm, inviting space? If I'm working on a scandi project, blinds alone will achieve a sleek minimal look and finish. Whereas if I'm designing a luxurious rich dining room to entertain guests, I'll want to layer blinds and curtains to create that warm, rich feeling with beautiful soft cloth fabrics.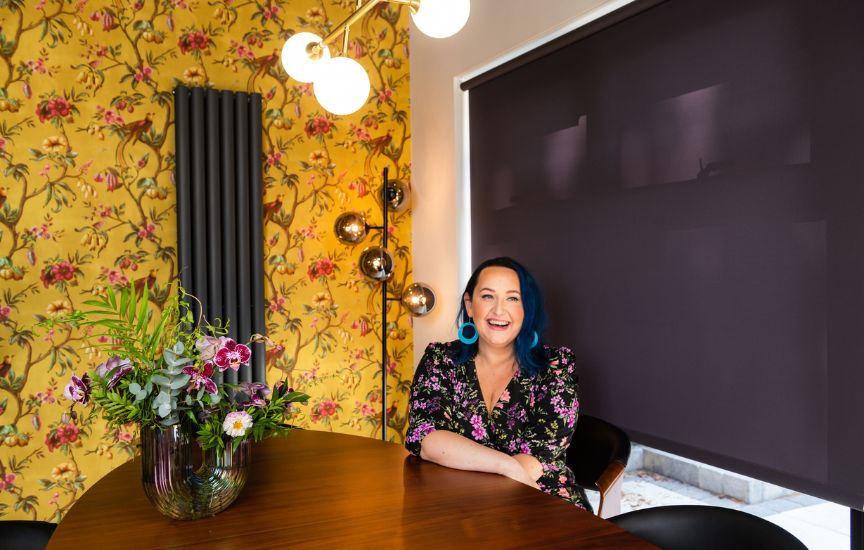 Why did you choose Swift Direct Blinds for your window dressings?
I've been using Swift Direct Blinds for years on many projects. What I love about them is that it's such a fast made to measure service, and you can order your blinds and curtains online. I remember the days when you had to go into a showroom and get other people to order and install blinds for you, but with Swift Direct Blinds, it's just so quick and easy to do. Every order I've put in has been delivered within a week maximum, and the products are amazing quality. They tell you how to measure and fit it all yourself. It's just seamless, not to mention cost-effective.