Discover the latest interior design trends influenced by social media, including the most Instagrammable and TikTok-popular styles.
From upcycling old furniture to the introduction of electric blinds, modern interior styles are being influenced by the past and present. Garnering over 30 billion TikTok views for the term #interiordesign, it appears that people all over the world are turning to social media for their home inspiration.
With so many different styles to consider, we wanted to find out which aesthetics are currently the most popular. Taking figures from Instagram, TikTok and Google search data, we have revealed the most popular interior design trends in the hope that they can inspire your next home renovation.
Scandinavian interiors are the most Instagrammable, with almost one million Instagram posts
Instagram is a popular site for sharing photos, and this has resulted in many interior-design posts over the years - but which styles have been Instagrammed the most? Here's what we found.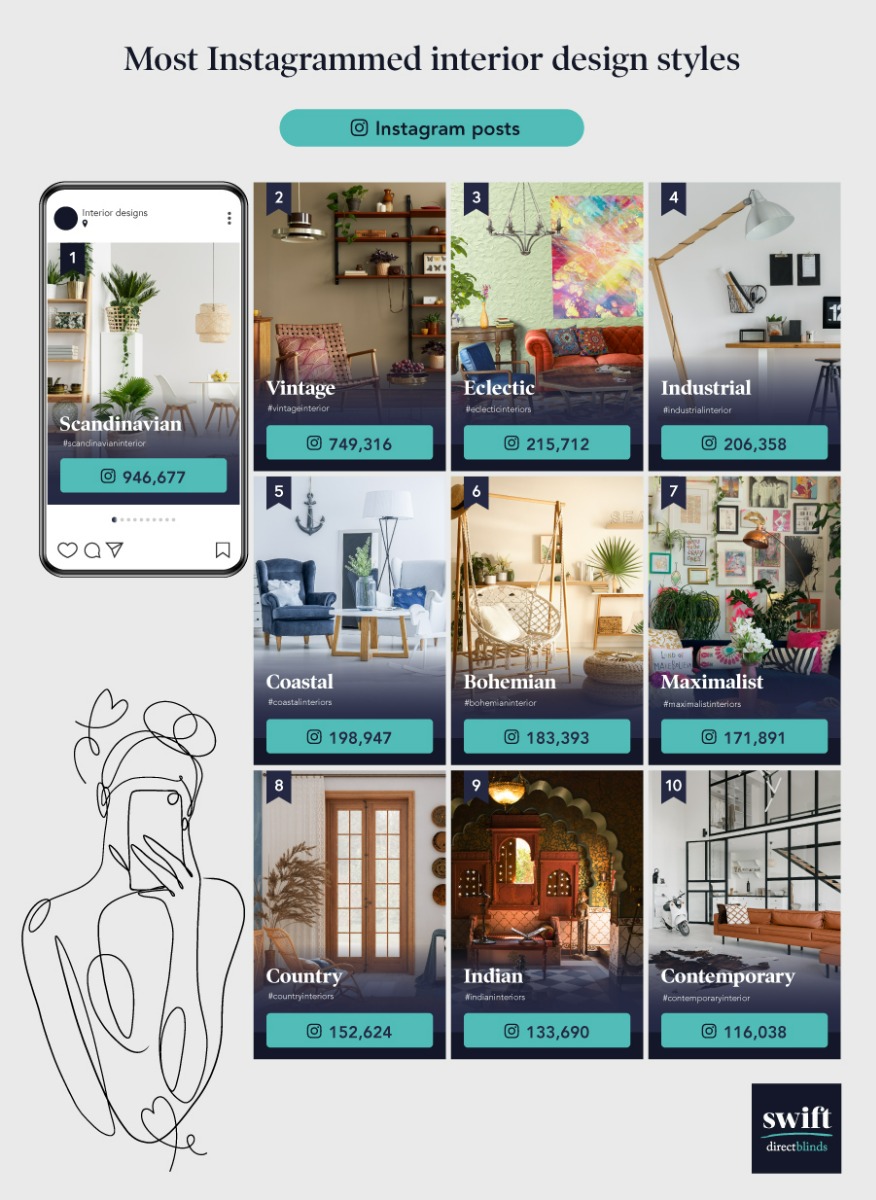 1. Scandinavian - 946,677 posts
Taking the crown as the most Instagrammed interior design style, is the Scandinavian interior, with 946,677 posts. This design style is distinctive for its clean and minimal look. This, paired with light and neutral colours, makes it a popular choice in front of the camera.
2. Vintage - 749,316 posts
As the name suggests, vintage interiors focus on taking inspiration from styles of the past. Some features you will likely find in a vintage-style home include floral patterned furniture and lace table fabrics. The nostalgia associated with this blast from the past is likely why this style has bagged 749,316 dedicated Instagram posts.
3. Eclectic - 215,712 posts
Completing our top three list of the most Instagrammed design styles, with a total of 215,712 dedicated posts, is the eclectic interior. Eclectic design encompasses a range of different styles and this makes it a real crowd-pleaser, particularly when it comes to Instagram.
Scandinavian interiors have seen more TikTok viewers than any other design style - totalling 96.8 million views
Creators using #interiordesign have clocked up an impressive 30.9 billion views on TikTok, but as we have already seen, there are so many different styles to consider. Below is a list of the interior design styles with the highest number of TikTok views.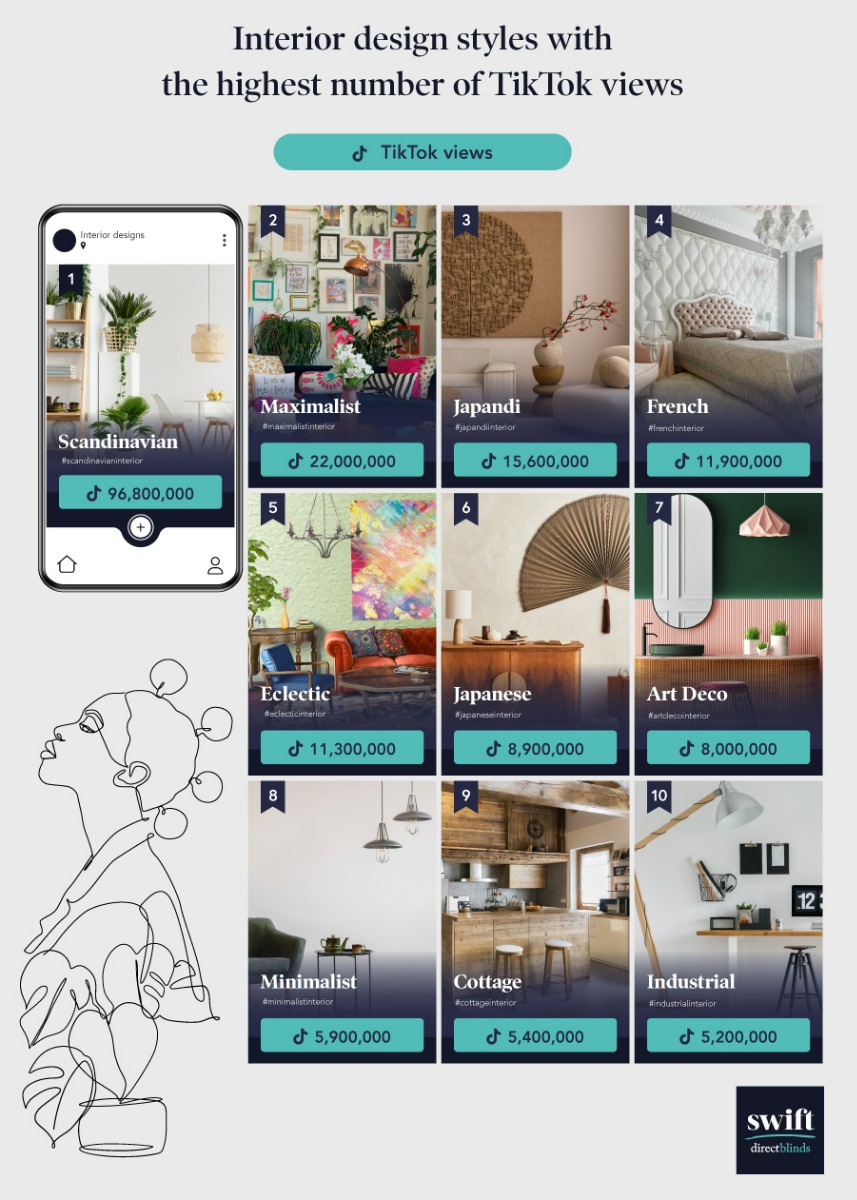 1. Scandinavian - 96.8 million views
The first-place entry on our list of home design styles with the highest number of TikTok views is the Scandinavian interior. From house transformation videos to room tours, Scandinavian interior TikTok videos are proving very popular, evidenced by the 96.8 million views across this video-sharing platform.
2. Maximalist - 22 million views
Maximalist interior design is arguably one of the most interesting to look at, emphasizing bright colours and personalisation. The individuality of this style is likely why it has seen 22 million viewers on TikTok over the years - the second-highest of every interior on this list.
3. Japandi - 15.6 million views
Combining the sustainability and the natural vibe of Japanese interiors, with the uncluttered and clean Scandinavian aesthetics, Japandi has garnered over 15.6 million views on TikTok - this makes it the third most popular of all the interior design styles on our list.
Scandinavian interiors have been searched more than any other design style - totalling 125,400 Google searches in the past year
As well as social media, people tend to turn to Google when searching for something, and interior design styles are no exception. To find out which interior aesthetics are piquing people's interest the most, we have delved into Google search data - here's what we found.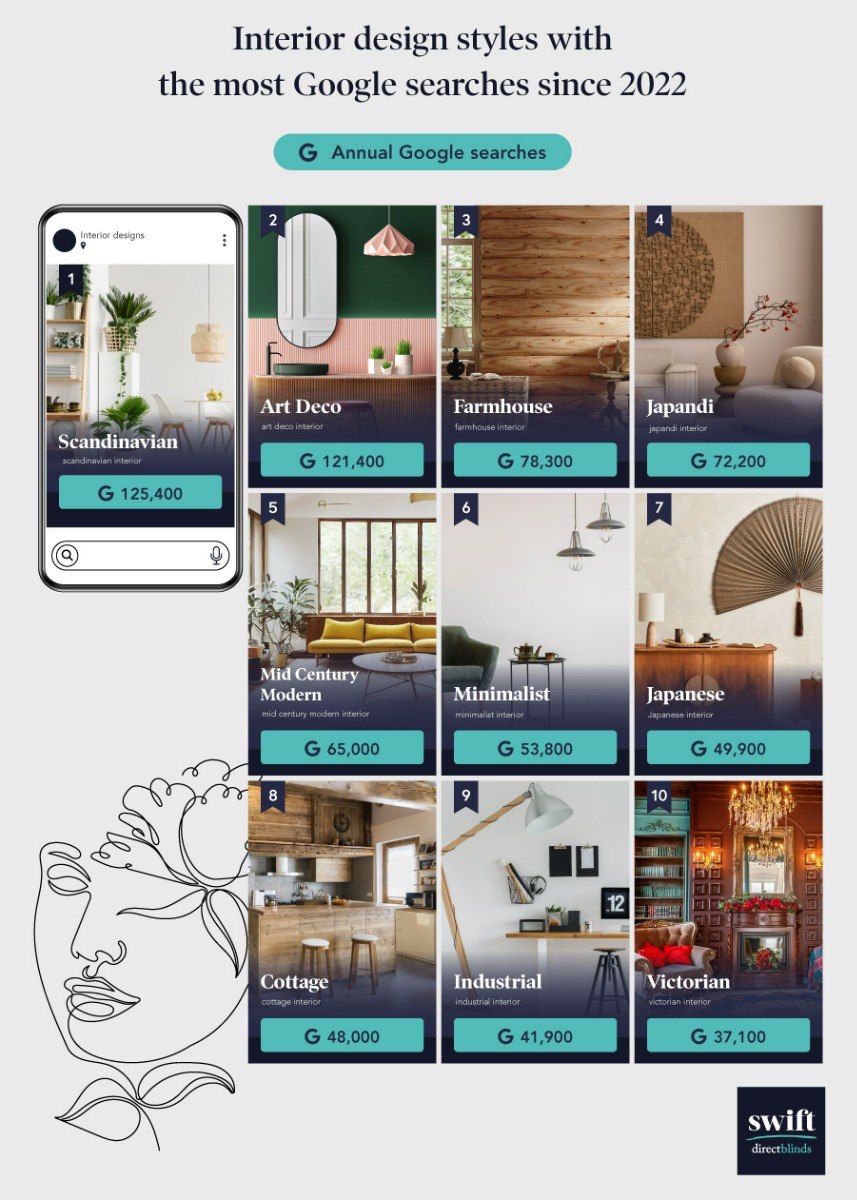 1. Scandinavian - 125,400 searches
Making its third appearance in the top spot of one of our lists is the Scandinavian interior, this time taking the title as the most Googled interior design style. After gaining popularity across social media, it is no surprise that 125,400 searches have been made in the past year for this aesthetic.
2. Art Deco - 121,400 searches
Falling just shy of the top spot, with 121,400 Google searches over the last year, is the Art Deco interior style. Categorised by geometric details and metallic colours, this type of aesthetic isn't as popular as it used to be but it appears that many people are still keen to find out more about this style of interior design.
3. Farmhouse - 78,300 searches
Completing our top three list of the most Googled interior design styles is the farmhouse aesthetic. As its name suggests, this interior style takes inspiration from the rustic nature of barns and other rural builds, whilst also maintaining a cosy feel. One look at this style in action and it's not surprising that it has seen 78,300 Google searches over the last year.
Four expert tips to help enhance your interior using blinds and windows
After gaining an insight into which design styles are currently trending in the world, you are probably wondering how you can elevate your interior - don't worry, we've got you covered. Below is a list of expert tips that will help you to utilise blinds and windows to take your home interior to the next level.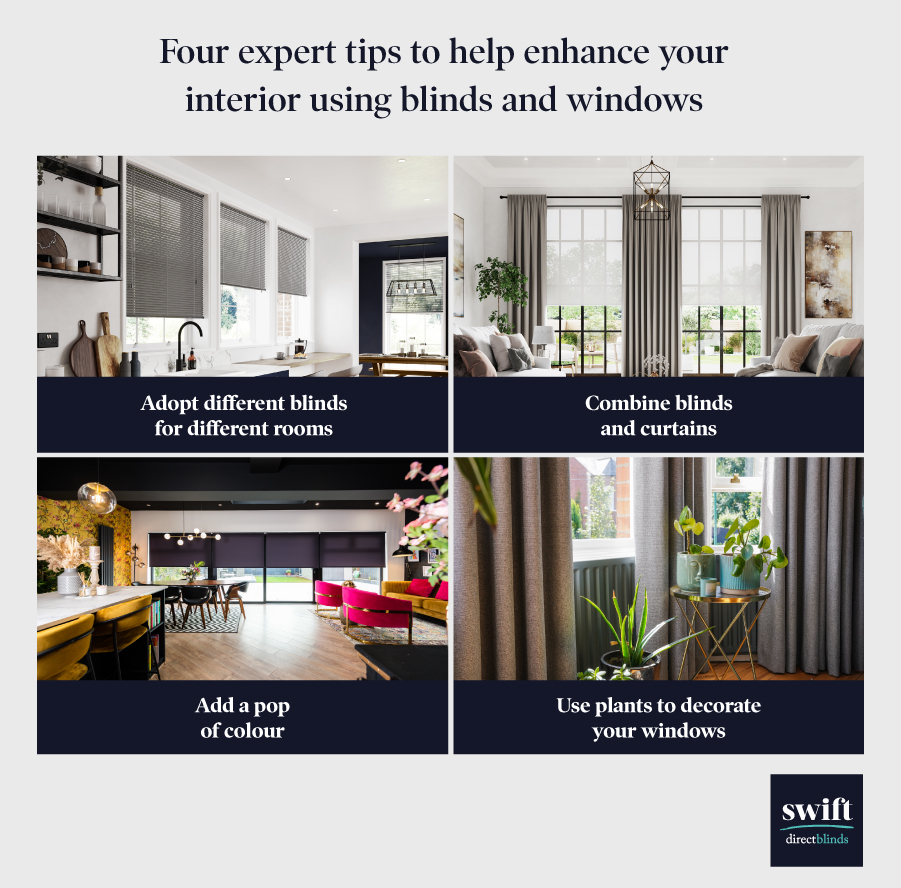 1. Adopt different blinds for different rooms
The rooms in your house can come in many different shapes and sizes, and the same can be said when it comes to blinds. Window coverings can be chosen for practical reasons, such as durable and waterproof venetian blinds above the kitchen sink, but that doesn't mean that they can't also be aesthetically pleasing. If you are looking for variation in your home, you should consider changing up the texture, colour, and/ or pattern of your blinds.
2. Combine blinds and curtains
Blinds and curtains are often considered independent of one another, but they can also be used together. If you have a curtain which is designed with a print, you can pair this with a blind of the same colour used in the print. By colour-coordinating your blind and curtain, you can achieve a cohesive aesthetic which adds another level of style to your room.
3. Add a pop of colour
When people consider blinds and made to measure curtains, they often think of neutral colours like beige and white, but incorporating a pop of colour into your window accessories can help to transform any room. For example, the inclusion of teal curtains can create an elegant aesthetic, whereas yellow blinds can add vibrancy to any bedroom.
4. Use plants to decorate your windows
From terrariums to hanging boxes, there are many ways that you can style plants to fit the design of your home. As well as enhancing the aesthetics of your window, plants can purify the air in your home which can contribute to healthier living.
Methodology
We used a range of listicles to find a list of interior design trends.
We used Instagram to find the number of posts that used #(designtrend) for each interior design style - this data was collected on 30/06/2023.
We used TikTok to find the number of views for #(designtrend) for each interior design style - this data was collected on 30/06/2023.
Finally, we used Google Ads Keyword Planner to add up the total number of global searches for each interior design trend between June 2022-May 2023.