Any blind type is suitable for a living room but to determine the best blind type for your own living room window, you need to think about the functionality, the style of the blind as well as your budget. In this article we've highlighted some things to think about when choosing the best living room blinds for you.
Get the luxury look
Nowadays, the majority of blinds are designed to be both practical and look aesthetically pleasing. However, if creating a homely and beautiful interior as well as privacy and light control, consider roman blinds, curtains or shutters. Soft fabric window dressings always look stunning and luxurious, while shutters are an investment, as like a good piece of furniture, they last for a long time.
The best blind types: roman blinds, curtains, shutters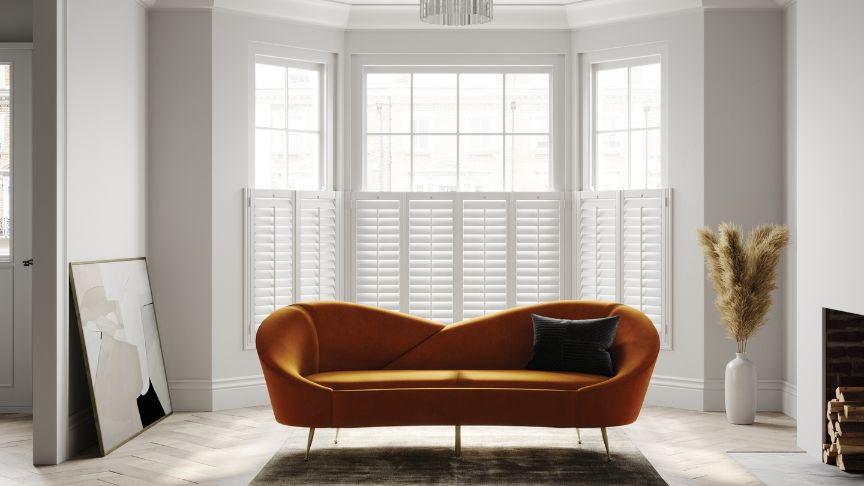 Living room blinds for improved privacy and security
A living room is a space in which you and your family probably spend the most time, so your blind needs to give you both privacy with a view during the day and total privacy in the evening. In this case, vertical blinds or wooden blinds are perfect. Both blind types will let the light in without fully exposing your window during the daytime and give you maximum privacy in the evening and at night.
Vertical blinds are a cost-effective choice, whereas wooden blinds are more of an investment not to mention more stylish. Whichever you choose, you're sure to see enhanced privacy by opting for these blinds, while also enjoying excellent light control.
The best blind types: vertical blinds, wooden blinds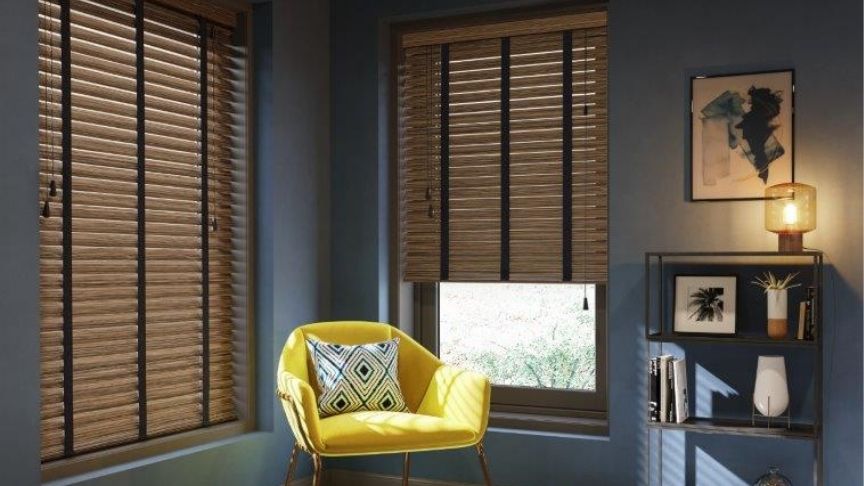 Fabric with enhanced insulating properties
All blinds when closed in the summer help reduce overheating and reduce heat loss in winter to some extent, helping to lower energy bills in your home. However, some blinds have superior thermal properties to others. Blinds made with solar reflective backing will prevent a higher percentage of solar gain to prevent glare and the home from overheating. Honeycomb blinds also have enhanced thermal properties due to their honeycomb pockets which trap air and provide an extra layer of insulation, honeycomb cellular blind are arguably the best thermal blinds.
The best blind types: thermal pleated blinds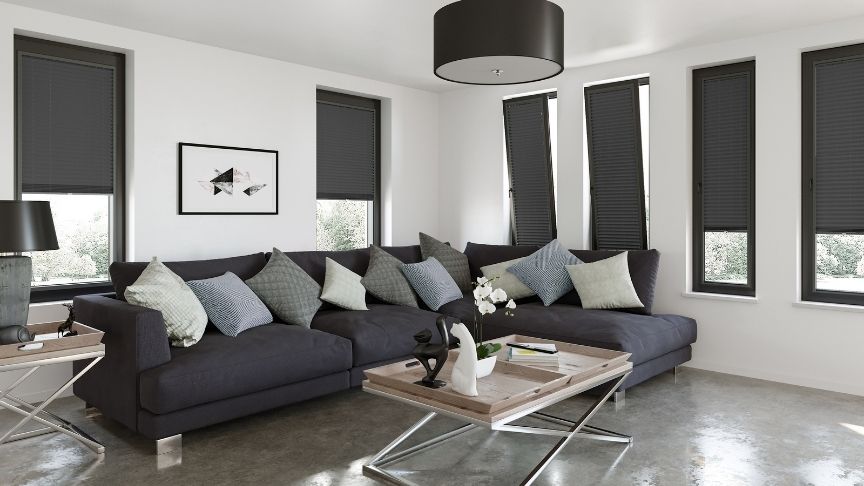 Bay window in a living room
Bay windows – also sometimes referred to as box or bow bay windows – are one of the most popular window types used for living rooms. This style of window lets lots of natural light into a room and gives you extended views of the outside of your home.
When it comes to buying blinds for bay windows, it's important to remember that you are usually covering between three and four panes of glass, so you'll need a blind for each.
If your bay window is facing the road, choose blind types that will give you flexible light and privacy control – for example, wooden blinds, vertical blinds, or day and night blinds. All of these blind types will let the light in during the day without fully exposing your windows, but will also give you privacy at night. Shutters are another practical and attractive option, however, they are more expensive than blinds.
If your bay window is facing a quiet road or a garden, you don't have to worry about privacy and can choose any blind type you like. If you love to make the most of natural light, choose roman blinds or roller blinds. Both of these can be fully raised during the day, which will let maximum light in, and then completely closed at night for total light exclusion. Plus, they come in a variety of patterns and fabric finishes, so you can choose the options that you like the most.
The best blind types: wooden blinds, roman blinds, roller blinds, vertical blinds.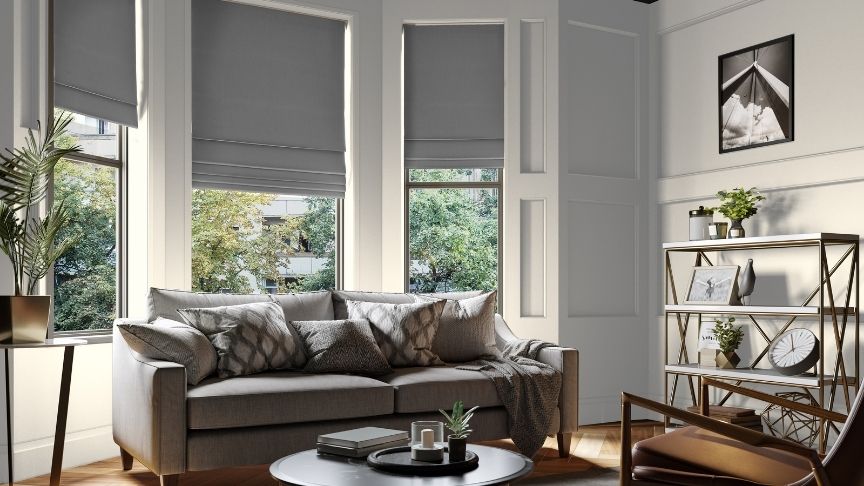 Living Rooms facing the road
If your living room window is facing a busy road, choose blinds that will give you both daytime views and privacy during the day, and total privacy in the evening. The perfect blinds to do this are wooden, day and night, and vertical blinds or shutters. All four options will give you full control over the amount of light you let in and people won't be able to look in once they're fully closed.
Vertical blinds take up most of your sill space compared to the rest of our recommended blinds, so if you like to have picture frames, plants or ornaments on your windowsill, choose wooden or roller blinds or shutters instead.
The best blind types: wooden blinds, day and night blinds, vertical blinds & shutters.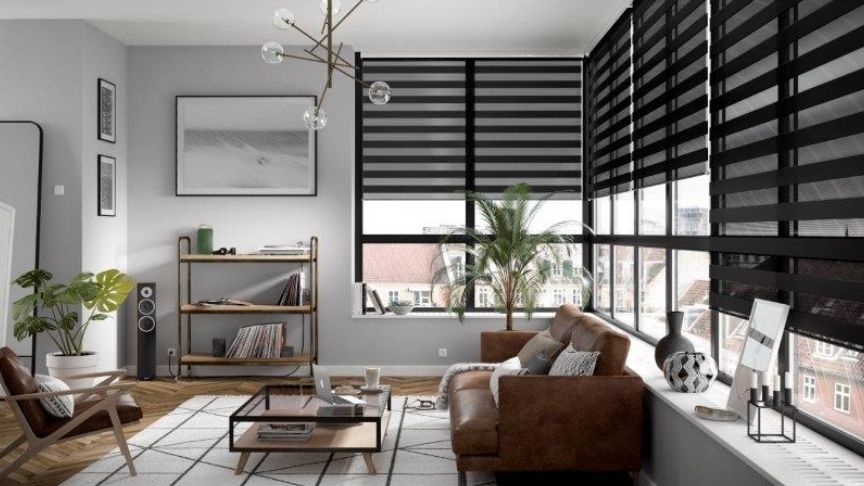 Large living room windows
Large windows are a dream of so many homeowners. However, the bigger the window, the more material is needed to cover it, so this needs to be factored in when budgeting.
The cheapest and most suitable option for large windows would be vertical or panel blinds. Both options provide privacy and offer excellent light control options.
If you want to enhance the size of your windows and turn them into the centrepiece of your living room, choose curtains. Curtains can transform windows, plus you can combine these with any other blind type, for example, a roller, roman or wooden blind, for more flexible light and privacy.
Another great option is café-style shutters. These cover only the lower part of your window, giving you privacy, while leaving the top half open for light to get through. Shutters are more expensive than blinds or curtains, but they last at least a couple of decades if you care for them correctly.
Electric roller blinds are also a good option for large and hard-to-reach windows. You can control these using an electric remote control, smartphone; or using a voice activation device, such as Alexa and Google Home.
Perfect Fit blinds are another option for large bay windows. These cover individual glass panes and you don't have to screw or drill into your window frames to fit them.
The best blind types: vertical blinds, electric roller blinds, café style shutters, curtains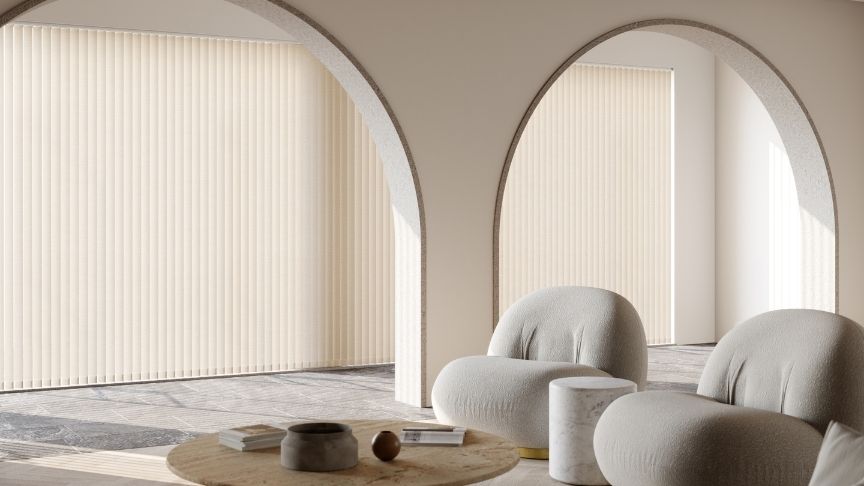 Layering blinds and curtains
We've arrived at a particularly creative part of this guide: window dressing layering. If there's a space where you can go all-out with your blinds and curtains, it's got to be in the living room.
Layered window dressings can be seen everywhere, from the images on Instagram and Pinterest to the pages of home interiors magazines, and there is a reason why combining blinds with curtains is considered good practice.
First, any blind will look sophisticated and complete when combined with curtains. Second, layering offers practical solutions. It gives your home increased heat retention and control over privacy and light. Curtains create a sense of luxury and a cosy feel to your living space like no other window dressing, while blinds do the functional bit. Plus, you can create a unique combination to suit your own personal style.
You can choose any combination you like. The most popular pairings are curtains teamed with wooden blinds, roller blinds and roman blinds, or curtains matched with shutters. Again, the last option will be more pricey.
Browse curtains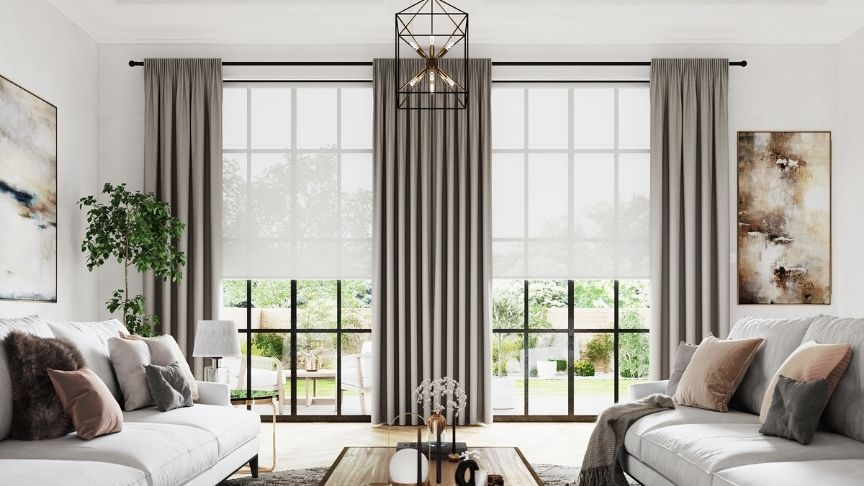 Smart blinds for the living room
If you have large or hard-to-reach windows, consider smart electric roller blinds. These can be controlled using an electric remote, via an app on your smartphone or can connect with smart home devices including Alexa and Google Home.
As well as requiring minimum effort, creating a smart home, and making it totally child and pet-safe, you also get peace of mind because you can operate your blinds while being at work or even on holiday in another country. This means you can create the impression that someone is at home for added security.
You can also connect your Smart Hub blinds to voice activation devices including Alexa and Google Home and control them using your voice.
Browse electric blinds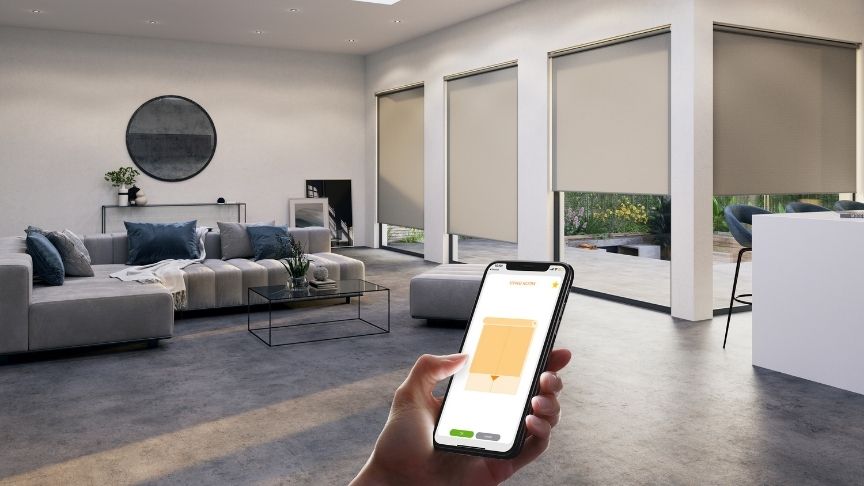 Share the Swift love
We hope you found this article useful and that it has helped you decide on the blind type and fabric you want for your living room window.
When it comes to choosing the colour and pattern for your living room blind, there are masses of options to choose from. We offer free samples for all our blinds, curtains and shutters, so you can see and feel the fabric before committing to buying.
Shop our recommended living room blinds