Whether it's a cosy reading nook or a charming living room feature, bay windows can utterly transform interiors. But while they encourage light to stream in and provide you with an amazing landscape view from your home, this exposure also comes with less privacy. Blinds are a fantastic solution, being minimal enough to keep your beautiful bay windows at the forefront of room design while adding stylish functionality to rooms. They are also effective in providing that bit of extra insulation for your home, which is always an added bonus!
As bay windows arc outwards gracefully they can also come with some pesky potential challenges when it comes to dressing them. With angled bay windows and curved bay windows they are often unobstructed, giving you a bit more wiggle room with window treatments. Often being composed of several smaller windows, it's worth considering blinds suited to narrower window panes. Whereas square bay windows or 'box bay windows' have tighter corners and potentially varying pane sizes; we recommend having a 'primary' blind for the widest window pane and smaller blinds to fit the narrow surrounding windows. Ready to find the best blinds for bay windows? Let's look at the options!
Roller Blinds for Bay Windows
A simple and stylish option for bay windows, our diverse range of roller blinds gives you the choice of fabrics, functions, and designs. Whether you want voile roller blinds for privacy while keeping rooms bright, blackout roller blinds to eliminate unwanted light, or dimout blinds for a compromise between the two!
When fitting roller blinds into a bay or box style window, achieve a seamless look by adding separate made-to-measure blinds into each individual section of your bay.
We advise matching the controls to the side of the blind the window fits on e.g. left-hand controls for a left-hand pane.
Our blinds have the fabric roll towards the window pane, to increase insulation and reduce light bleed.
Note: Consider whether you will be looking to hang your roller blinds with a top fix or face fixing, as this will affect your allowances when measuring.
Browse Roller Blinds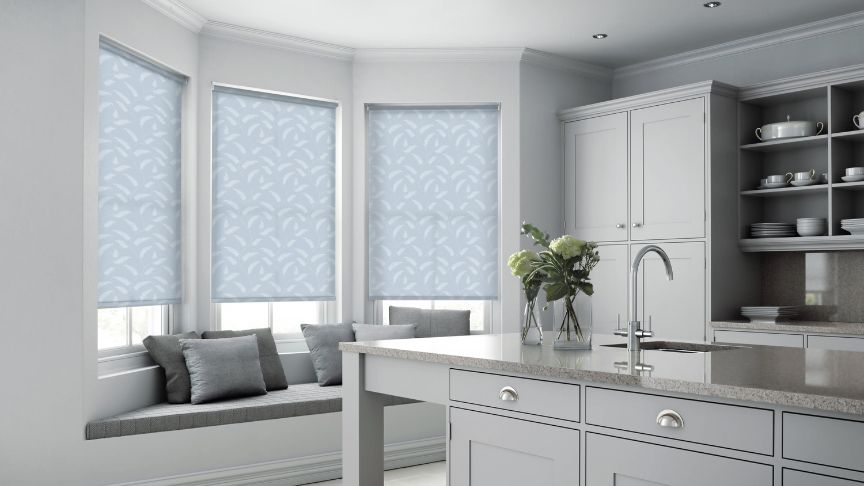 Roman Blinds for Bay Windows
Akin to the roller blind, classic roman blinds are just that bit more luxurious, featuring an elegant layered finish that promises sophistication. Roman blinds on bay windows will add a touch of texture and come in an array of colours and patterns.
Roman blinds provide excellent insulation when paired with a thermal lining, perfect for those larger bay windows.
Made-to-measure roman blinds will fit snugly into your bay windows, due to their narrow depth profile.
The blackout lining option will allow you to re-create the roman blinds bay window aesthetic in bedrooms too.
Note: For a multi-layered effect, pair roman blinds with curtains and experience the thermal and light control benefits of roman blinds close to the window, with the dramatic visuals of flowing curtains within the room.
Browse Roman Blinds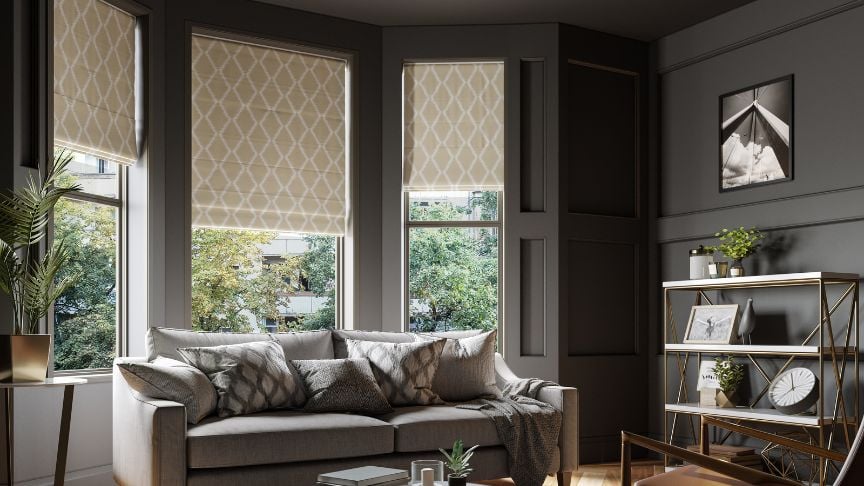 Pleated Blinds for Bay Windows
Pleated blinds are an absolute dream for bay windows - fitting neatly into small spaces and drawing up compactly at the top so they're barely visible when not being used. Designed with temperature control in mind, these blinds work their magic for conservatories and south-facing windows that get a lot of direct sunlight.
A highly compatible style in terms of size - perfect for angled bay windows!
Available in blackout, solar control, and even voile, this range covers all the bases.
For maximum temperature effectiveness we recommend the honeycomb structure cellular blinds, optimised for both summer and winter.
Finish with a traditional cord or for a neat, child-friendly option, go for the clip and fit.
Browse Pleated Blinds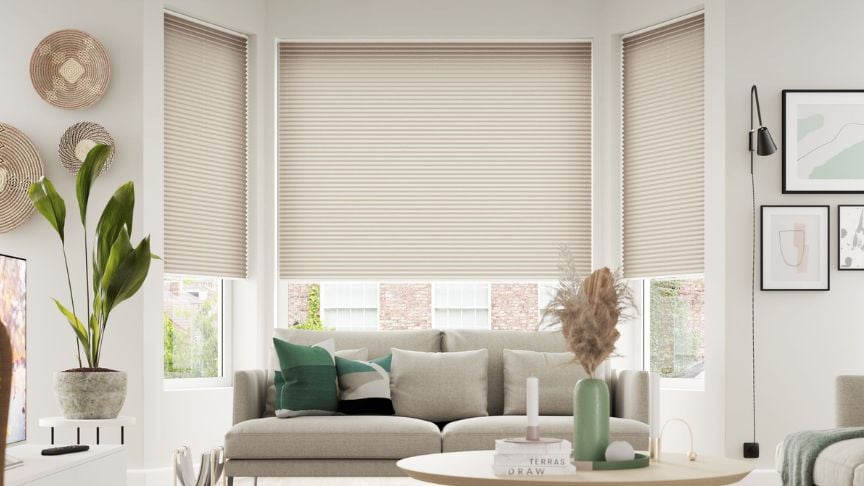 Perfect Fit Blinds for Bay Windows
Perfect fit blinds come with the benefit of fuss-free installation, as the blind sits within a frame neatly, making this a favoured window treatment for bay windows. If you're worried about cumbersome gaps, perfect fit blinds are a must-have.
No drill and screw-free - brilliant for conservatories and PVC windows, and what's more, they're suitable for rental properties!
Ensure privacy and full light control when you want it, with gap-free blinds.
Cordless for a smart look, and therefore child-safe.
Choose your style: roller, wooden, venetian, pleated, or day and night blinds.
Browse Pefect Fit Blinds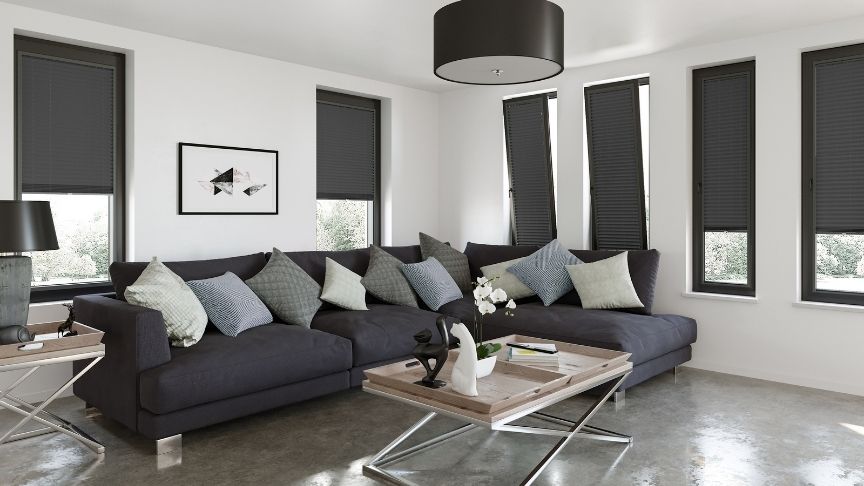 Wooden Venetian Blinds for Bay Windows
Seeking chic and modern bay window blinds? Wooden venetian blinds work beautifully to enhance this window type. Have more control over the light coming in, as these slats can be adjusted to be partially or fully open, illuminating rooms through the entire window. These versatile blinds go with almost everything - it's no wonder that this is one of our most popular blind types!
For lovers of low-maintenance homeware, wooden blinds are delightfully easy to clean.
Great insulators - they reduce noise pollution and increase energy efficiency!
Choose between moisture-resistant & flame retardant faux wood or real wood for an affordable shutter look.
Finish with tapes if you desire a traditional and luxurious appearance.
Note: When deciding on slat size, it's worth considering that thicker slats like 50mm, have a slightly larger headrail which could impact the spacing between blinds depending on the angles of your bay windows.
Browse Wooden Blinds
Aluminium Blinds in Bay Windows
Aluminium venetian blinds come with their advantages for bay windows, providing them with an effortlessly uniform look, while being effortlessly adjustable for a spectrum of options for incoming light.
Amazing for rooms that feel the heat - with curved slats and metal material to help reflect UV rays.
As venetian blinds can be crafted with smaller slat sizes - think 15mm or 25mm - they are perfect for bay windows.
Our aluminium venetian blinds feature controls on either the left or right side, so you don't have to worry about how to accommodate controls!
Browse Aluminium Venetian Blinds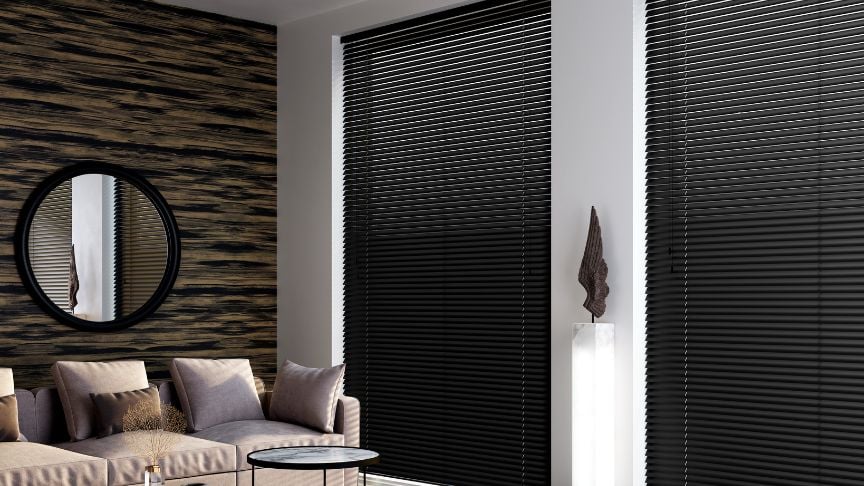 Vertical Blinds for Bay Windows
A popular choice for conservatories and offices, vertical blinds for bay windows can work well. This ultra-simple style exudes sophistication when choosing muted tones and neutrals - alternatively, opt for bold colours/patterns for an eye-catching statement!
These blinds are great for square bay windows, as wider slats help to prevent those awkward gaps when closed.
Vertical slats elongate bay windows subtly, emphasising their magnificent height.
Take your pick from a variety of styles, with fabrics available in blackout, allergy-reducing, and flame retardant.
Note: When measuring, take care to ensure that the blinds will not overlap in the corners.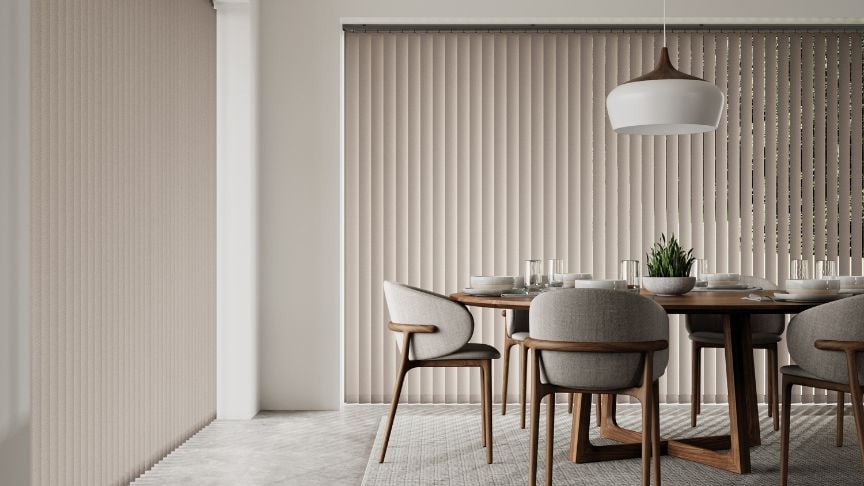 Share the Swift Love
We hope this guide on the best blinds for bay windows helped give you a better idea of which blinds are best for your home. If you found this article please feel free to share it.
Don't forget you can order free samples to get a feel for different materials and styles.
If you're raring to go then get started with our in-depth guide for information on how to measure for bay window blinds