Which stately homes are the most beautiful?
Everybody has a different idea about what makes the perfect house, with some fancying extravagantly patterned blinds and others preferring a more traditional look. From manors to castles, there are some awe-inspiring homes across the world that we all wish we could call ours, but which of these estates are the most beautiful?
Using a combination of reviews, search and social data, Swift Direct Blinds have compiled a list of the world's most beautiful stately homes, and because we believe that you deserve to be excited about your house, we have also provided you with some expert tips to help elevate your interior.
Castle Howard is crowned as the most beautiful stately home with 47.06% of reviews mentioning the word 'beautiful'.
Many stately homes open their doors to the general public, allowing us to experience their grandeur and history. This has resulted in many glowing online reviews, but which homes are people raving most about?
Below is a list of the stately homes with the highest number of reviews mentioning the word 'beautiful'.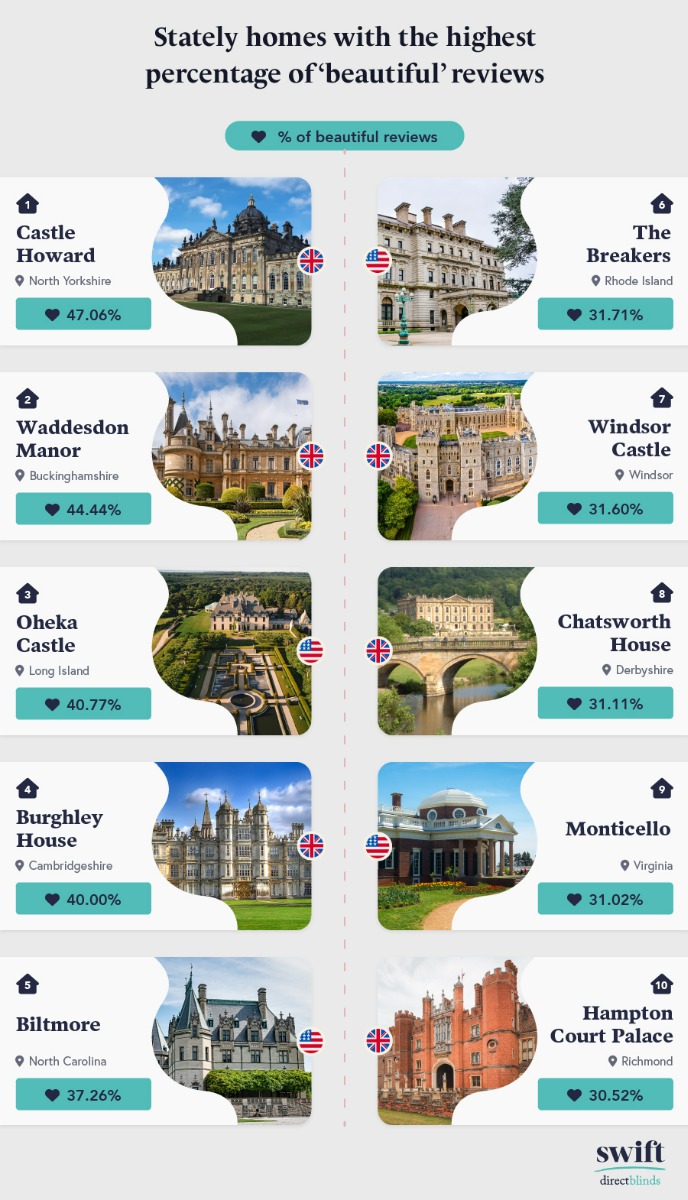 1. Castle Howard - 47.06%
Taking the title of the most beautiful stately home in the world is Castle Howard. Located in the north of the UK, this Grade I listed building has received a mention of 'beauty' from 47.06% of all reviewers. Aside from the stunning interior, many have praised this estate for its lavish chapel and surrounding gardens. Based on its first-place entry in our list, it's not surprising that this castle has also been used as the setting for a selection of tv shows.
2. Waddesdon Manor - 44.44%
The second UK-based home to feature in our list, with 44.44% of all reviews containing the word 'beautiful', is Waddesdon Manor. Owned by the National Trust, this country house sees hundreds of thousands of visitors through its doors every year - take one look at the place and you will understand why.
3. Oheka Castle - 40.77%
This castle is regarded as one of the most prestigious wedding venues in the US - but it will cost you a small fortune to tie the knot here. The extravagant price tag appears to be worth it though as the word 'beautiful' appears in 40.77% of reviews for Oheka Castle - the third highest of any stately home on our list.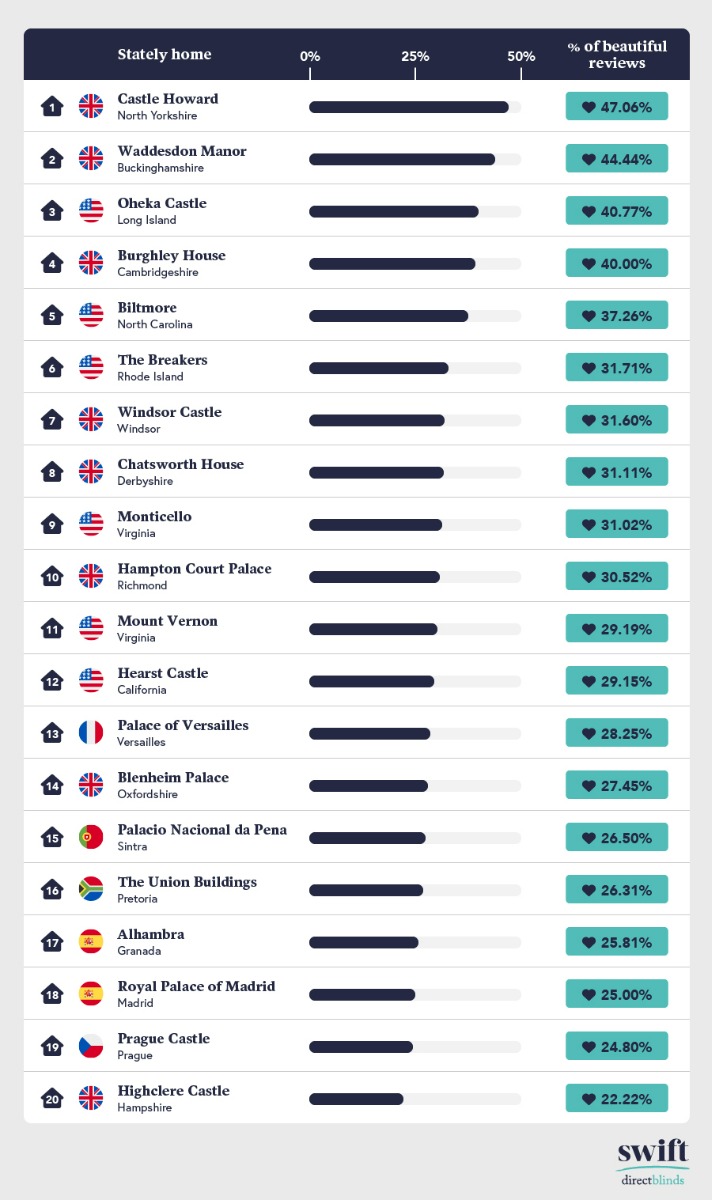 People are posting about Buckingham Palace more than any other stately home, totalling 1,514,153 posts on Instagram
Even though photographs often fall short of the real thing, they are a good indicator of beauty. We have used Instagram to find out which stately homes are being posted about the most - here's what we found.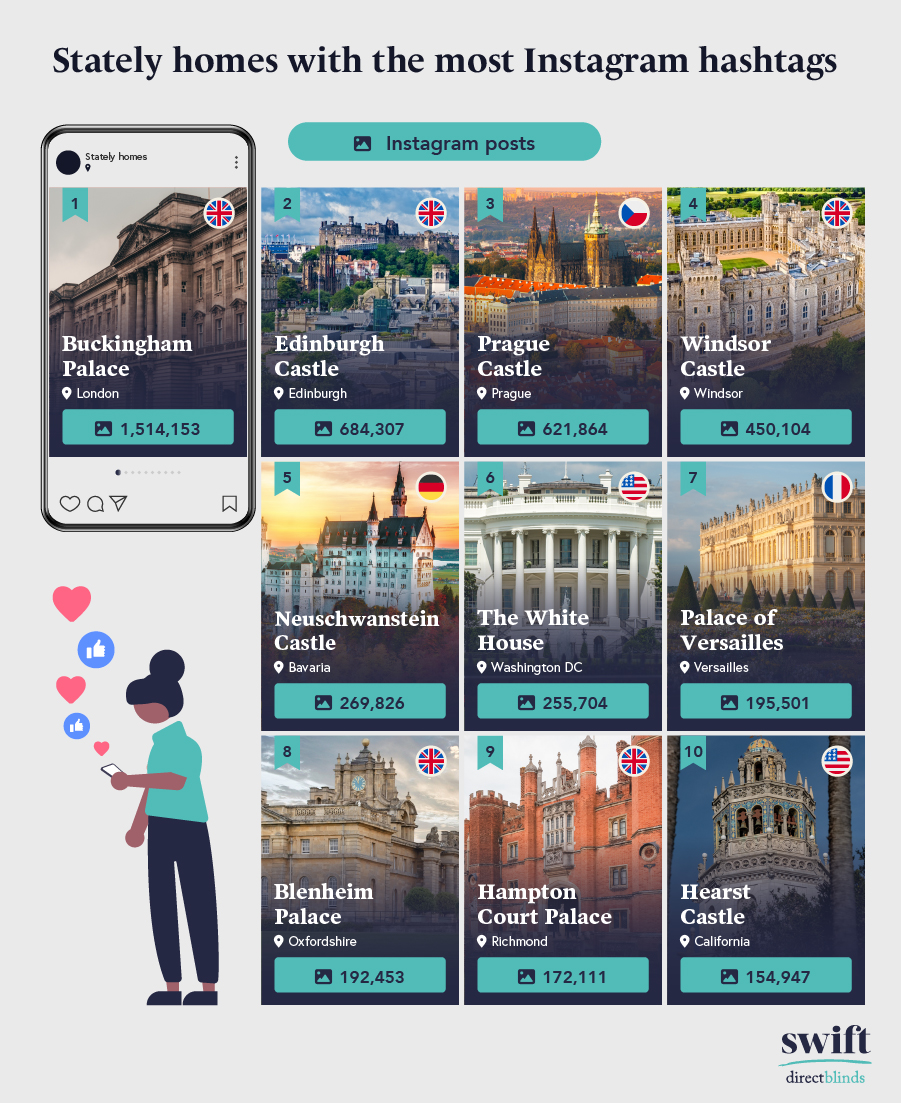 1. Buckingham Palace - 1,514,153 posts
Located in the heart of the UK's capital, Buckingham Palace has become one of the most famous landmarks in the country. Amongst the features that make this home extraordinary is the huge plethora of rooms, totalling over 700, and the 40 acres of palace gardens. Bearing this in mind, it's no wonder that 1,514,153 posts have been used with #buckinghampalace.
2. Edinburgh Castle - 684,307 posts
From one end of the country to another, the next stately home on our list is Edinburgh Castle. This whole city is a photographic hotspot for tourists, with Edinburgh Castle having featured in 684,307 Instagram posts - the second-highest total on our list.
3. Prague Castle - 621,864 posts
Completing our top three list of the stately homes with the most dedicated Instagram posts is Prague Castle - totalling 621,864. This castle has been around for centuries yet it appears to be as popular as ever, evidenced by its third-place entry on our list.
With a 247.98% increase in the number of Google searches since 2021, the Palace of Holyroodhouse has grown the most in popularity
Houses which were once trendy have now become relics, but the interest in them does not always age with time. Which stately homes have grown the most in popularity over the last two years? Here's what we found.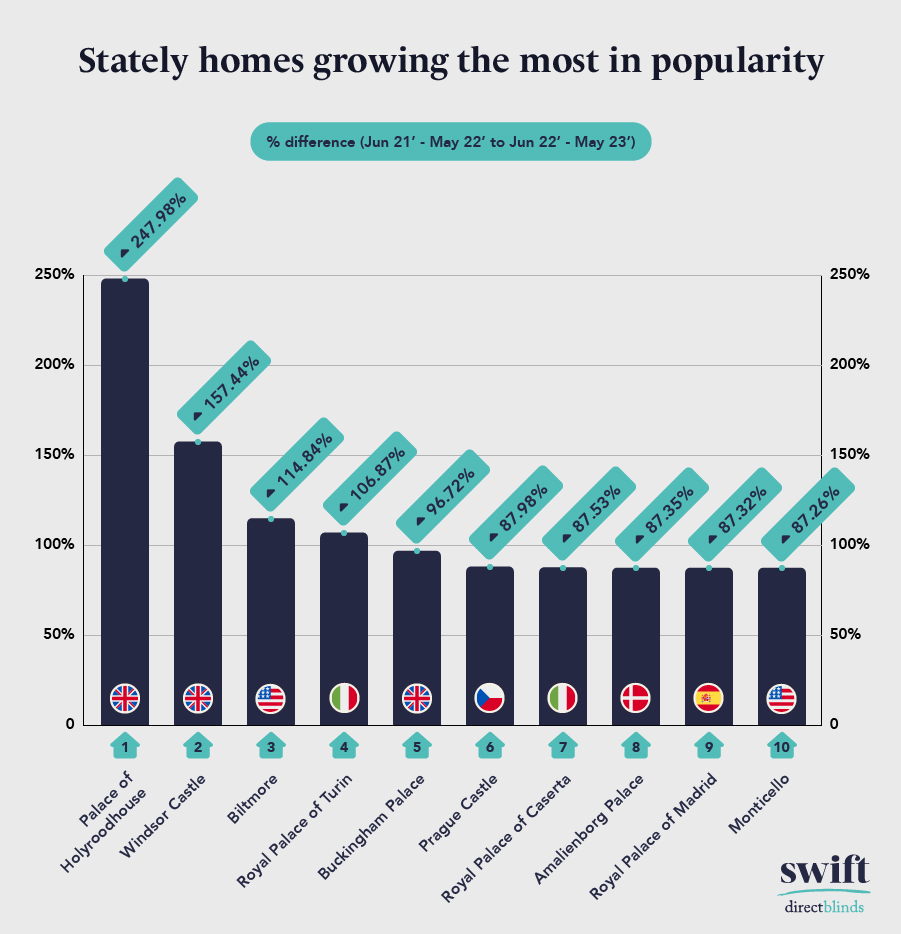 1. Palace of Holyroodhouse - 247.98%
Taking the top spot, with a 247.98% increase in Google searches, is the Palace of Holyroodhouse. As one of the three official residences of the British monarch, this estate is held in high esteem by many. Aside from its regal visitors, the Palace of Holyroodhouse stands on its own in terms of beauty and lavishness - rightfully earning its place in our top spot.
2. Windsor Castle - 157.44%
From one royal home to another, Windsor Castle appears second on our list of stately homes increasing the most in popularity. As the second UK manor to feature in this top three, it seems that people can't get enough of the historic residences of this country - and who can blame them?
3. Biltmore - 114.84%
Last but by no means least on our top three is Biltmore. Located in North Carolina, US, this estate has seen a 114.84% increase in Google searches over the past two years. With over 170,000 square feet of incredible architecture, this home is grand in terms of both quality and quantity.
Expert tips to help give your interior an opulent makeover
Some household interior is focused on practicality, such as the darkening capability of blackout blinds, but this doesn't mean that you have to miss out on style. We have compiled a list of expert tips to help take your home's interior from ordinary to extraordinary.
Add a statement piece
A statement piece can come in many different forms, from a dazzling light feature to a decadent mirror - so even if art isn't your thing, there are still ways you can make a room unique. You don't need to spend a fortune on a lavish piece, but the bigger the feature is, the better and more impressive it will be.
Upgrade your curtains
With so many different types of curtains out there, it can be difficult to decide which ones are best suited for your house. However, if you are looking to give your room an opulent vibe then you should consider the length, material and colour of your curtains. Floor-length, velvet, and/or gold curtains are some of the features which are synonymous with grand and regal homes. In addition to this, curtains paired with roman blinds are the ultimate symbol of luxury when it comes to window dressings.
Front door refresh
When entering a new house, the first thing guests will see is your front door. Because of this, it is important to impress here as this will make a good first impression and set a precedent for the rest of your home. Something as simple as a fresh coat of paint can elevate a boring door to one with style.
Clean up your clutter
The sheer size of stately homes means that they always appear clean and tidy with little to no clutter. By having a good old-fashioned spring clean, you can transform an untidy room into one with grace and finesse.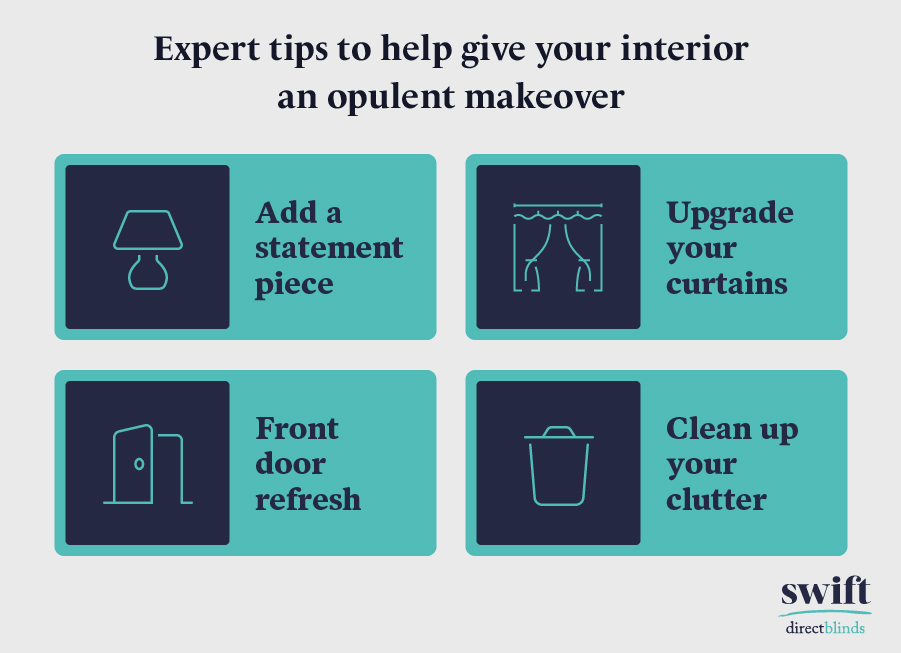 Methodology
We used a series of listicles to make a list of well-known stately homes across the world.
We used Yelp and TripAdvisor to find the total number of reviews for each stately home as well as the number of reviews which contain the word 'beautiful' (data was collected on 12/06/2023). We divided the number of 'beautiful' reviews by the total number of reviews to calculate the percentage of beautiful reviews for each stately home.
We used Instagram to find the number of Instagram posts that used #(statelyhomename) for each entry in our list (data was collected on 12/06/2023).
We used Google Keyword Planner to find the total number of global searches for each stately home between Jun 2021-May 2022 and a separate total for Jun 2022-May 2023 (data was collected on 13/06/2023). We then subtracted the latter total from the former and divided this by the Jun 2021-May 2022 figure before multiplying by 100. This gave us a percentage of how much each stately home has increased/ decreased in searches over the last two years.