Our Experts Answer
Before choosing a fabric for roller blinds, consider which room you will install it in. Each material has its benefits, and the environment dictates the best choice.
The best fabric for bedroom roller blinds
The key to bedrooms is choosing a fabric that has blackout properties. You will still get light seepage around the edges, but the difference between light filtering and blackout blinds is enormous.
The fabric can be any material, but polyester looks and feels more premium. While that might not be useful while you're asleep, it creates a room where you want to spend more time.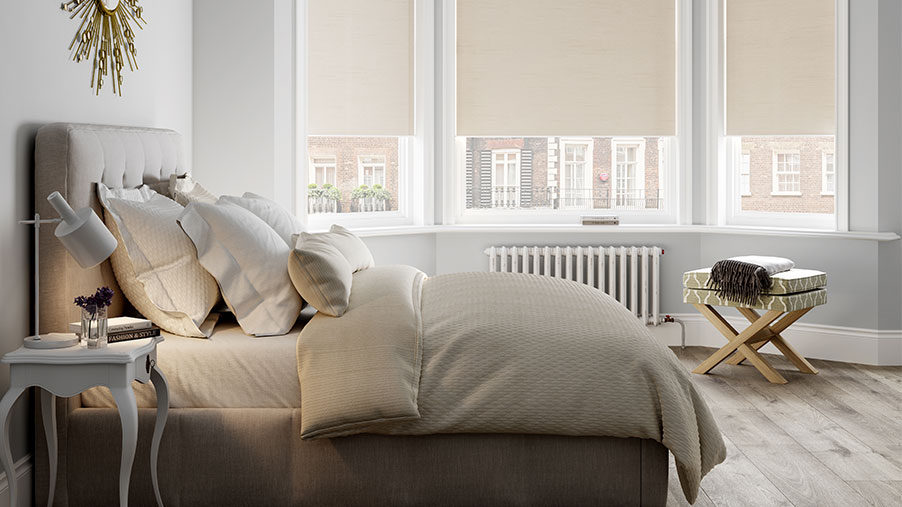 The best fabric for dining room roller blinds
Every home has a different take on dining rooms, so it isn't easy to choose one specific fabric. It's less likely that you'll need blackout fabrics, so you can save money by selecting a light filtering blind.
If you couple your dining room and kitchen, you'll need to consider how likely it is to pick up odours or water vapour. However, if it's in a separate room, you have greater flexibility and should match it to your décor.
Browse Dining Room Roller Blinds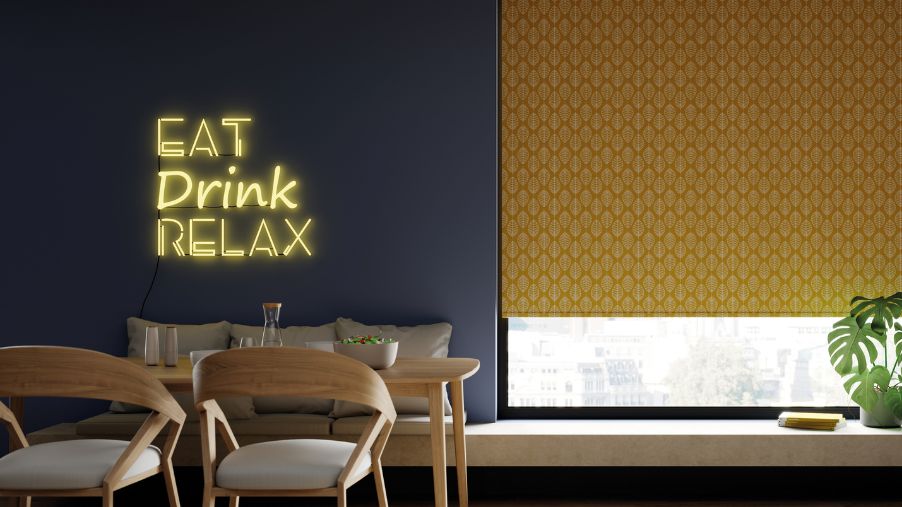 The best fabric for kitchen roller blinds
If you want to install roller blinds in your kitchen, polyvinyl chloride (PVC) is a great choice, especially for windows above the kitchen sink. It's waterproof, easy to wipe, and the least likely to pick up odours released from cooking.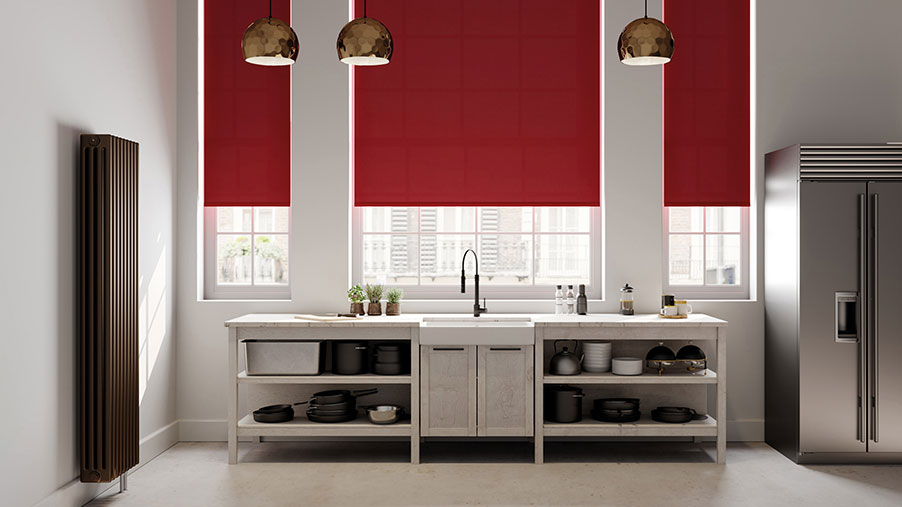 The best fabric for living room roller blinds
Most of us love spending time in our living room. You can host some guests or cosy up and watch a movie. Polyester is your best fabric choice; it's high-quality and has many options.
If you have full-height windows, why not try voile roller blinds? They let through sunlight and reduce glare. Couple roller blinds with thermal curtains for the winter, and you've made an inviting atmosphere all year.
Browse Living Room Roller Blinds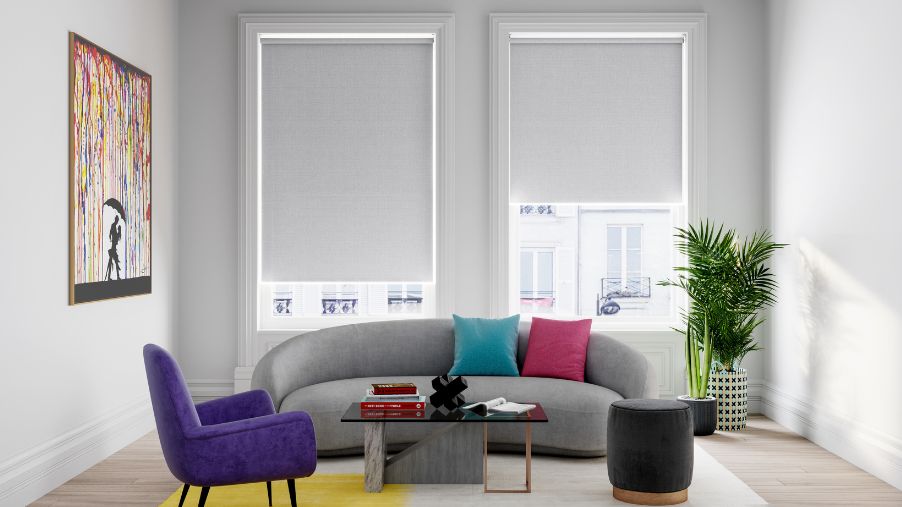 The best fabric for bathroom roller blinds
Depending on whether you have clear or obscure windows, you will have very different bathroom requirements. You may not need blinds with frosted or obscured glass, whereas clear glass would be best with a PVC fabric.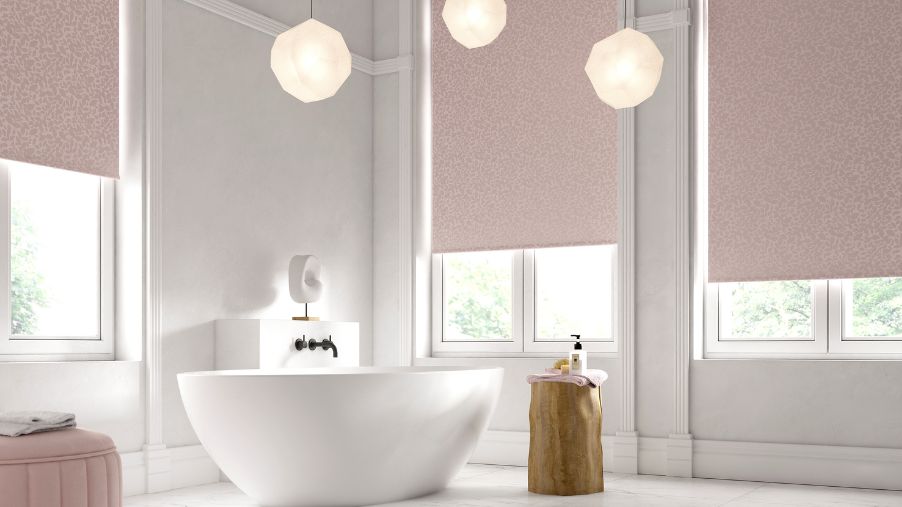 FAQ's
What is the best roller blind fabric for insulating windows?
Thermal roller blinds are the best roller blinds for insulating windows. The blackout and thermal properties provide excellent insulation by preventing both heat loss and unwanted sunlight from entering the room.
Is a polyester roller blind waterproof?
Polyester is inherently resistant to water penetration to some extent, making polyester blinds suitable for areas prone to light moisture or occasional splashes, such as steam from bathrooms or minor kitchen splatters. However, it's important to note that prolonged exposure to significant amounts of water or immersion can potentially lead to water permeation and mould. If seeking a window treatment for spaces with high humidity or occasional dampness, it's advisable to consider specialised blinds such as PVC waterproof roller blinds.
Is a heavy fabric best for roller blinds?
Heavy fabrics, such as thicker textiles or blackout materials, offer enhanced light-blocking capabilities, making them ideal for spaces where light control is essential, like bedrooms or media rooms. They can also provide better insulation, aiding in temperature regulation.
What roller blind fabric is best for allowing light into a room?
When seeking a roller blind fabric that welcomes ample natural light into a room, it's advisable to opt for sheer or light filtering blind.
These fabrics strike a balance between privacy and illumination, diffusing sunlight while maintaining privacy.
Sheer voile blinds
, often composed of lightweight polyester, allowing soft light to permeate the space, creating an airy and inviting atmosphere. Their ability to filter sunlight without sacrificing privacy makes them an excellent choice for spaces where gentle illumination is desired while preserving a sense of openness.
What roller blind fabric is easiest to clean?
PVC roller blind fabrics are resistant to stains, moisture, and dust accumulation, making maintenance straightforward. A quick wipe with a damp cloth is usually sufficient to keep them looking fresh and clean. Additionally, their durability ensures that regular cleaning doesn't compromise the fabric's quality, making them an excellent choice for hassle-free upkeep.
Find a suitable roller blind for your home by browsing our full range.
Looking for more expert advice?
Take a look at our other expert guides.